I'm a traditionally trained tattoo artist who offers a wide variety of styles. I will work very hard to create a one of a kind tattoo specifically for you in a unique, relaxed environment. The art I design for you will fit to your body, and it is my passion to make you feel great when you look in the mirror, for ever. I am very confident in my tattoo work, my artwork, and my potential to make you happy. You care about your image; your tattoo artist should as well.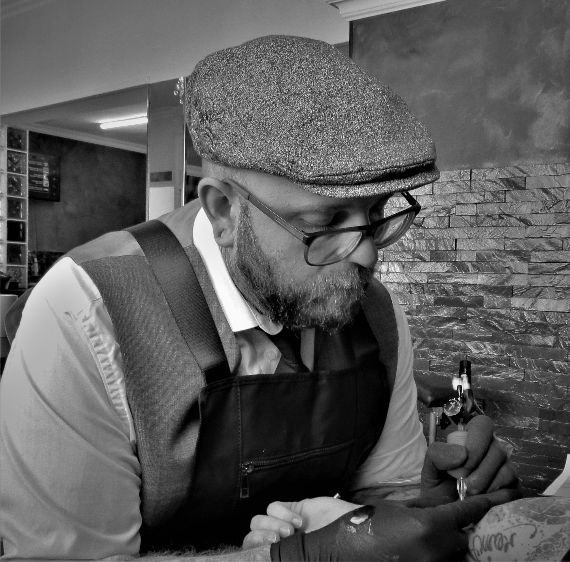 Alex Coolbaugh.
Born and raised in Boise, Idaho, USA, I started drawing on school assignments at a young age. After college, I started getting tattooed by old school tattooers in my hometown. That was when I realized my calling. I started my apprenticeship in February of 2009 at Ink Fever Tattoo in Boise, Idaho. Through lots of hard work I became a full time tattooer in early 2011. I now live in the Hamburg, Germany area, tattooing all kinds of great people. My favorite styles are traditional and neotraditional tattoos, but I would consider myself a well rounded tattooer.
Career
I began my apprenticeship in February 2009 at Ink Fever Tattoo in Boise, Idaho. After two years of learning I was finally ready to bring my art and creativity to life on the skin of my clients. I worked at Ink Fever until 2012, until I was offered to buy the studio and open it anew. Together with a partner I took the offer and founded Ancient Iron Tattoo Parlour, which was open until 2014. At the beginning of 2015 I took the next step in my career- I packed my bags and tattoo machines and booked the next flight to Germany!
Work Style
I tattoo many styles, but overall I enjoy Traditional, Neotraditional, Dotwork, Blackwork, Minimalism, and Realsim the most, just to name a few. My personal goal is to make every tattoo perfect, but more importantly, to make sure my clients are satisfied. I put heavy emphasis on cleanliness, hygiene, and an organized work station. I am very happy to meet you, to make your skin look great, and to make you happy and satisfied!
Address
Red Corner Tattoo Barsbüttel
Willinghusener Landstraße 4,
22885 Barsbüttel
Opening Hours
Monday to Thursday:
12:00 – 19:00
Friday:
11:00 – 16:00
Contact Me
Red Corner Tattoo Barsbüttel
Willinghusener Landstraße 4,
22885 Barsbüttel
+49 40 386 533 345